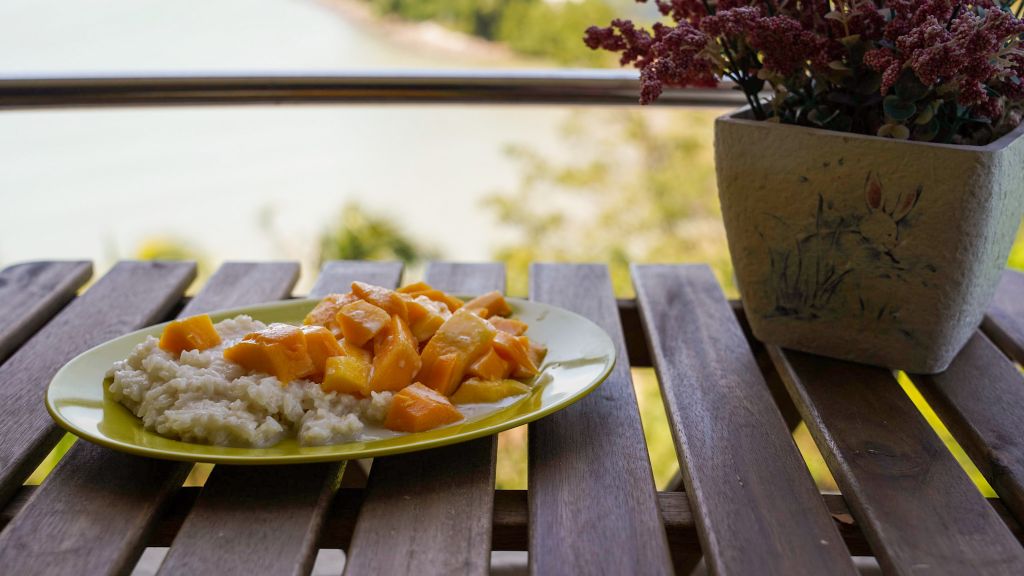 It's an iconic Thai dish. You can get it nearly everywhere in Thailand. In theory it's a dessert but it's very filling so it can be easily treated as a main dish. We fallen in love with it and started to not only buy it every time we're in Thailand but also making it ourselves.
Ingredients:
1
cup
Thai sweet (glutinous) rice
1
can coconut milk (good quality)
Directions:
1
Soak rice in a cup of water for about 30 minutes.
Start Timer: 30 Minutes
Do not drain it.
This is an important step. The rice will not get sticky and may remain under-cooked if you skip soaking.
2
After soaking add another 1/2 cup of water, 1/2 can of coconut milk, salt and 1 tablespoon brown sugar. Stir well.
3
Boil rice on low heat about 20-30 minutes or until the liquid is absorbed by the rice.
Start Timer: 20 Minutes
Turn off the heat but let the rice sit under the lid for another 5 minutes.
Well prepared rice should be mushy sticky and soft.
4
Heat the remaining coconut milk over a low heat, add salt and sugar, stir well until sugar dissolved and remove from the heat right after. Do not boil it.
5
Peel the mango and cut it length ways as close to the stone as possible. Discard the stone and mango cut into cubes.
6
Put a rice on the plate, add mango next to it and pour coconut cream prepared earlier over it.
For additional taste and decoration you can sprinkle it with crushed peanuts.
Note
7
If you an't find glutinous rice you can use regular one. To make it more sticky try to soak it overnight in water or add a little more water for cooking. It won't be as sticky as glutinous rice but good enough.
Other option (and the best substitute) is to use sushi rice.