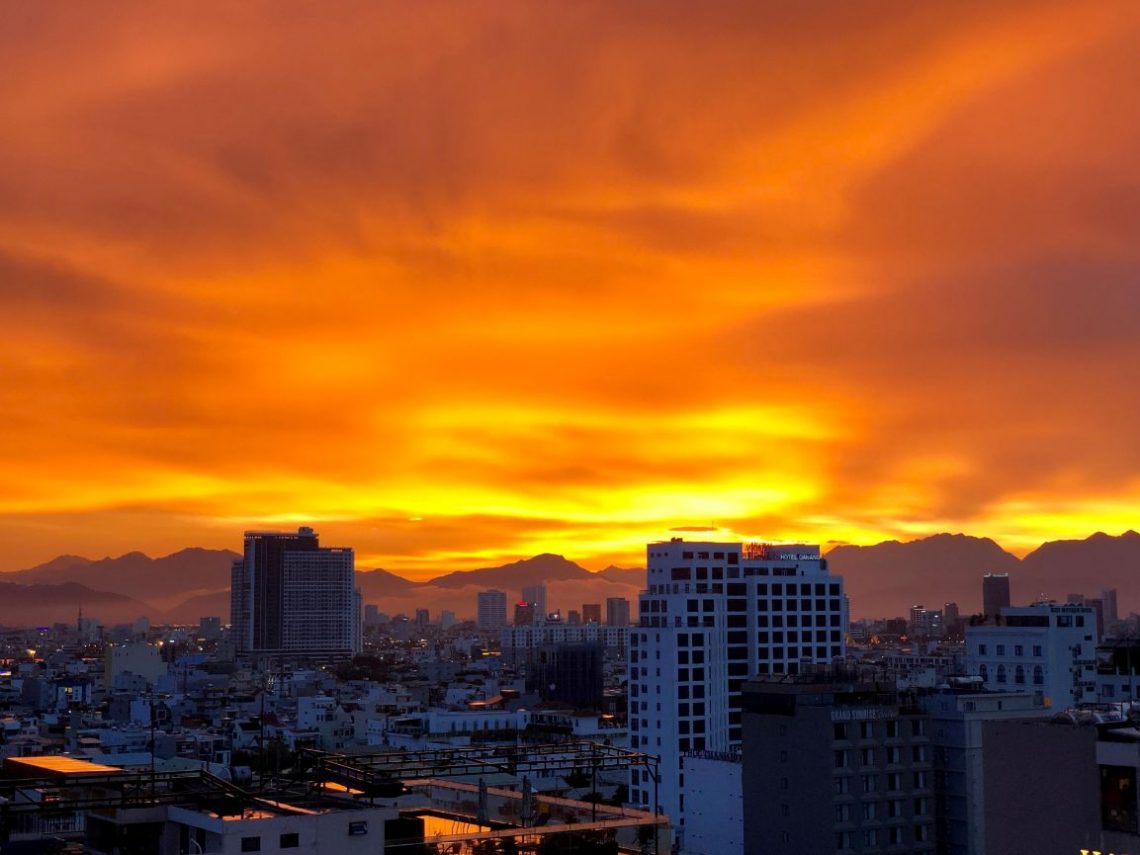 Sand everywhere – a house near the beach
The quarantine in Vietnam was at this point at full blast. Empty streets, nearly everything closed apart of a very few grocery shops, no cars or bikes on streets. This was the moment we wanted to move to our new bigger apartment… That was the problem. We were pretty sure that two white people with a huge suitcase and backpacks walking along the road would bring some curious eyes on us and most likely police too. In fact, officially we should not be able to rent an apartment at all since the government prohibited it two weeks prior.
People are very resourceful when they know they can easily earn extra money. Our new landlord decided to create a short term lease agreement with us dated before the new directive was announced. He also came by car to our previous place, took our luggage, gave us keys and let us walk there. It wasn't far so we didn't mind, and I think it looked much better to all curious eyes that a local guy comes home with a huge suitcase, not us. We entered the building as if we were always there and just came back from a walk.
A new apartment near the sea
We knew at this point that we're going to stay in Vietnam for much longer than we anticipated so we decided to rent a comfortable big two-bedroom flat near the sea. Everything looked perfect at first glance: two rooms with a large double bed, two bathrooms and a spacious kitchen/dining/living area, the beach few meters from the building, plenty of small shops and restaurants around. Of course, most of it was closed during the quarantine but we were hoping it will all end soon and everything comes back to normal again. We were happy we have a rice/slow cooker in the flat plus two hob table stove. All restaurants and streetfood were closed so that proved to be the most useful feature of this apartment. We like to cook our own meals but this time we didn't have any other choice.
Favourite grocery shop
It would be all just fine if not one thing we didn't know when we moved here – the few shops that were opened had a very small range of food that we could actually use for home cooking. Well, at least those larger ones that we expected to find a better selection of food. How wrong we were we realized one day when we decided to check a really small shop next to the entrance to our house called Moonmilk. The shop was tiny. Only one person could fit between the shelves but the selection of different kind of foods not only local but also international blew our minds! It quickly became our favourite shop.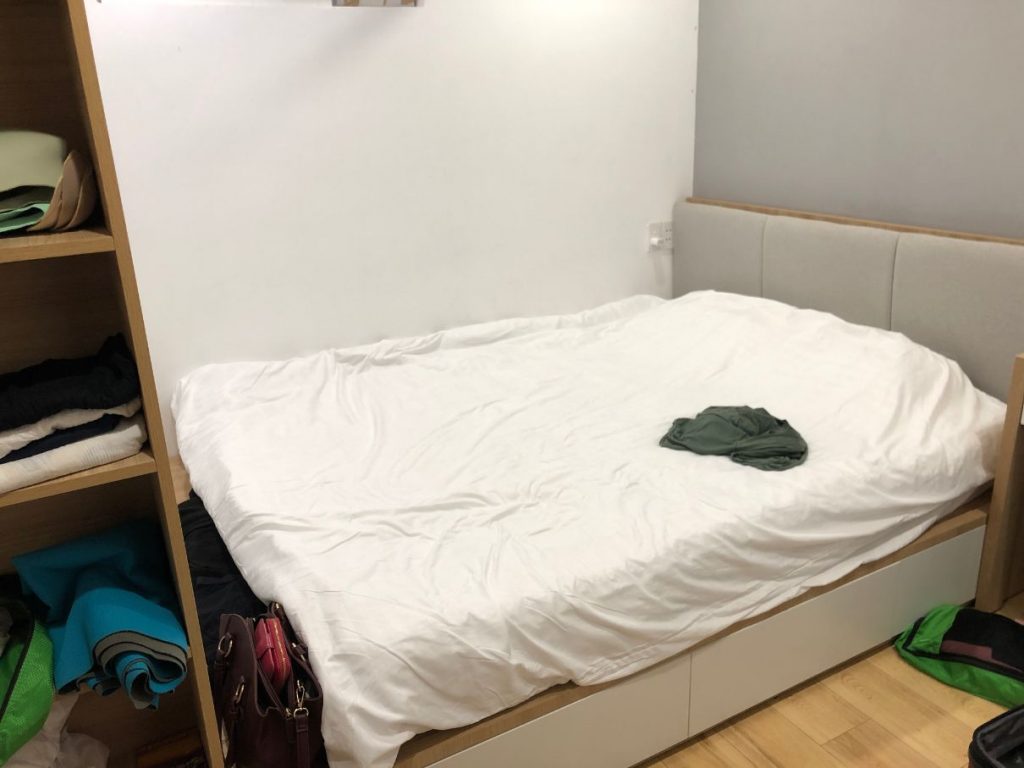 Both beds in the apartment needed a little bit of getting used to. The first time we went to bed we literally checked if there's a mattress at all it was so hard. It supposed to be good for our back but I swear first week or two everything hurt when we woke up. We were not used to sleeping on such hard mattresses. I bet now all future beds will feel too soft for us. One of the bedrooms doesn't have a window so when you close the door it's dark all day there. A perfect bedroom for daytime sleep and since we often stay up half or most of the night the dark bedroom proved to be perfect for us. It's also very quiet there since no outside noise gets there.
Road works at night
Since we're talking about noise. This is something we couldn't know but it annoyed us for a long time! During quarantine but also after it, there were road works that made a lot of noise early morning, late evening and often most of the night. We noticed that this kind of work here is done only before sunrise or after sunset. It makes sense actually because during the day the heat is unbearable. But we didn't expect they will work all night making a huge noise and nobody even complained about it. That was a huge surprise. And not a nice one.
What is even worse everything was constantly covered with sand that the air was full of from roadworks. Sand on the balcony, washing machine, our laundry… you could wipe it out daily and it was back there a few hours later. We also had a lot of sand inside the apartment even though we made sure to not leave the balcony door open.
Restaurants nearby
When quarantine finished we decided to go out and try local food from local restaurants. We wanted to support small businesses here first of all. Secondly, we were a bit sick of eating the same things for the last few weeks. We tried most of the restaurants nearby. In the end, settled with a one that served the best and accidentally also the cheapest food around here. You will not find this restaurant on google maps so I am going to share an estimated location.
In search for some seafood
We also went for a long walk to find a local market. Two were fairly close to us. The first one wasn't the best one, unfortunately. We didn't find too many stalls and it was a bit too far for us. We walked to the market but came back by taxi. The other market was slightly closer and larger too. The only problem was that most sellers didn't speak much English. In the end, we came back with 2kg of jumbo shrimp instead of 1kg and 3 crabs instead of 2 😀 . We didn't mind though. The prices were good and all seafood looked fresh. Nothing to complain about. There are also stalls with fresh fruits and vegetables as well as clothing etc. At this point though, all we wanted was some fresh seafood.
We came back home happy… and sweaty and burnt by the sun. These were days with a huge heatwave over Vietnam. We walked to the market by the sea and a nice breeze cooled us. We didn't even feel the heat that much. Way home though wasn't that nice anymore, the sun was high and the morning breeze disappeared. Nonetheless, crabs and shrimp were really good and we still had some left for future meals.
Amazing sunsets
What we really liked about this place was the balcony with a nice view of the city and Ba Na Hills. It's a shame it didn't face the beach. On the other hand, the mountains were also a nice view. Plus we experienced a couple of amazing sunsets so we're happy with that. The sunrise was on the beachside and we obviously went to see it too. Sunrise over the sea is always an amazing view that stays with you for a long time. Especially when you stare directly at the sun all the time haha. We also discovered that local people go to the beach just before sunrise and after sunset. They spend their time there very active, unlike most Europeans that we've seen sunbathing all day. During the day the beach is nearly completely empty.