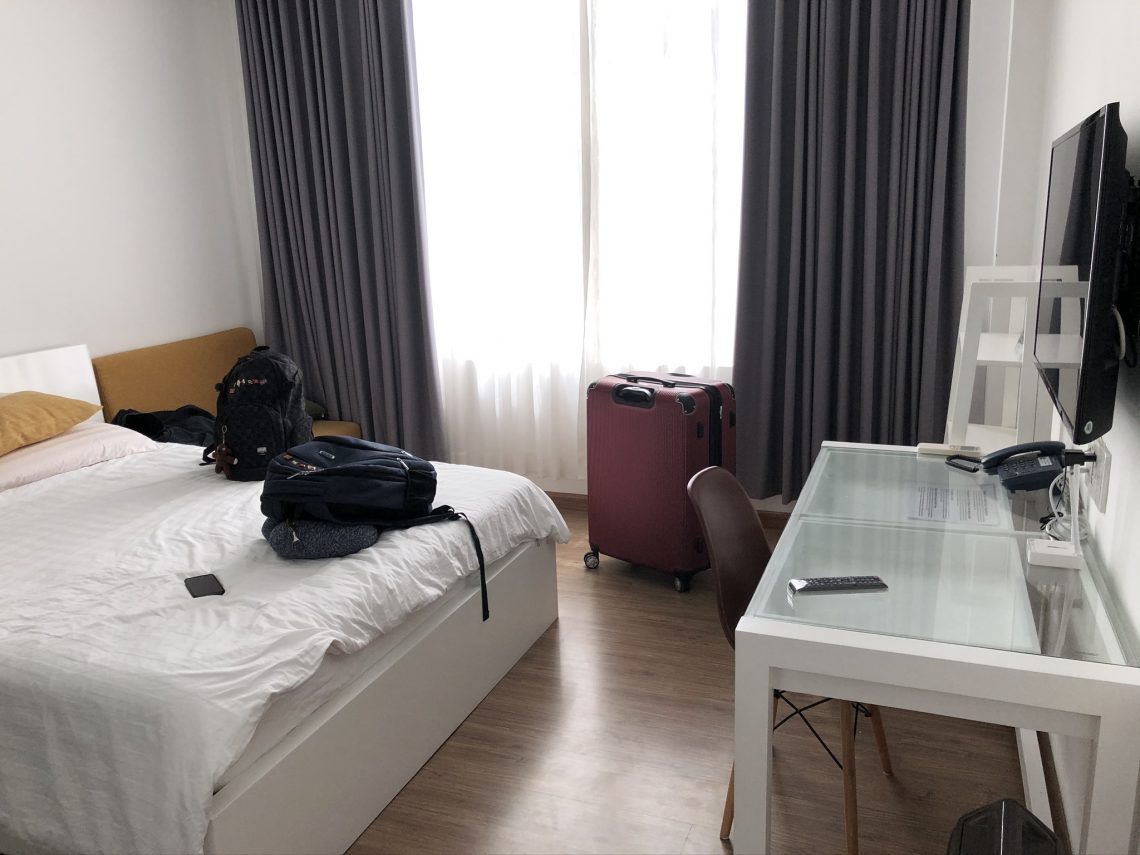 Returning to Vietnam, we knew right away we'll want to stay longer this time. Therefore, chose Ho Chi Minh City as it's easier finding an agency there to extend our visa. We have decided to stay there for a week and move on to another city after our visas are done.
We didn't do any research about the extension process though and it was our mistake. When we arrived we found out that it takes between 7 -14 days to do it. Could be faster but only if we pay extra, nearly twice the original price. We already booked a place in Da Nang City and we didn't want to pay extra for fast processing, so we decided we will look for another agency in Da Nang or simply stay only a month and go to another country. It's not like we had to stay in Vietnam, we simply wanted to see a bit more of this country. We could also just come back later this year again.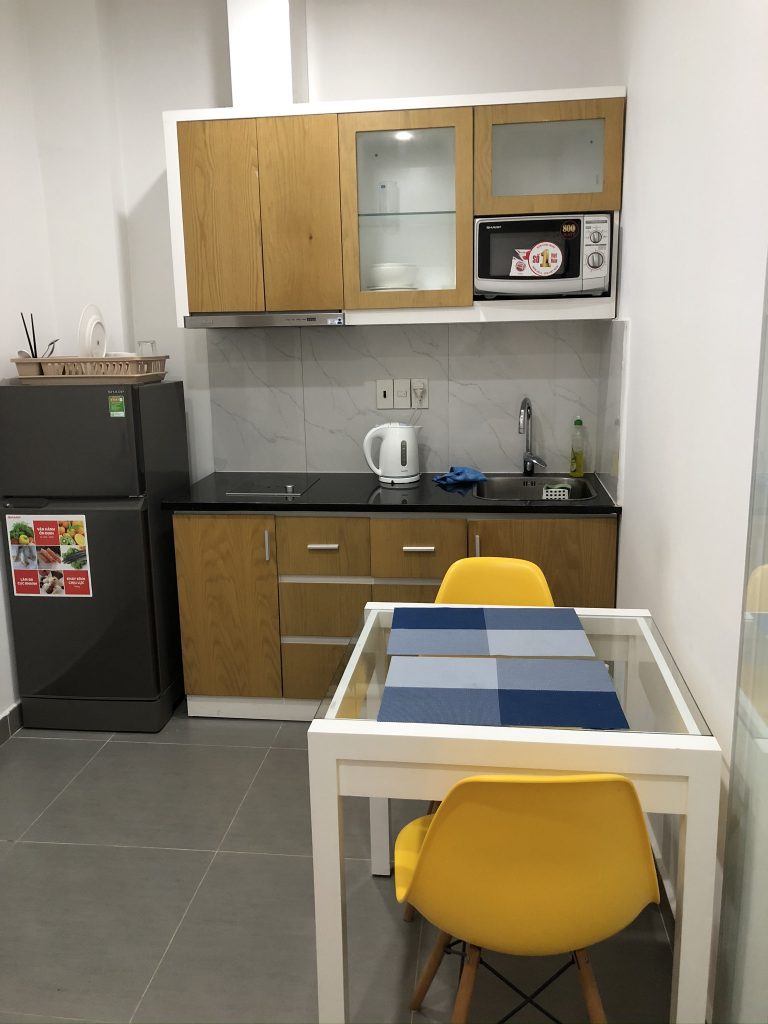 3 Oaks hotel
Since we were planning a short stay in Ho Chi Minh City we chose to stay in a homestay/hotel that was cheap but also near the centre of the city. We found such a place on Airbnb called "3 Oaks". It is located on one of those Vietnamese narrow streets. Right around the corner are pubs, restaurants and all the streetfood you want. The main road where we stayed last time is just 5, maybe 10 minutes walk from here.
The hotel is very nice and clean. It's ideal for a short stay and thankfully we stayed there only a week because there are also disadvantages for people like us, who need a place to work. A huge plus of the place was a water dispenser right in the room. This is the first place in our travels that had one of those. We have our own water filter but obviously, with a dispenser, we didn't need to go through the struggle of filtering. There is a fully equipped kitchen but since street food and restaurants are all over the place we didn't need to use it. Although, it is worth to mention that this is also the first and only place we stayed where was a really sharp knife.
The best feature of this room was a bathroom. It was a reasonable sized bathroom with a bath and shower over it. Water pressure was so strong the shower actually hurt. Water temperature was great too. We enjoyed our baths there because we didn't have one for ages. Not that we are dirty and smelly. Simply most places we stayed in had only a shower.
Cleaning service
Like I mentioned before, it is a very clean place because every morning a cleaner came to replace towels and clean the room. There was one annoying thing about it though. She tends to knock the door, but if you didn't reply or open the door (because you were still in bed for example) she opened the door with her own key and started doing the cleaning. She didn't care much that we were still in bed and was very surprised when I said we don't need cleaning that day.
Warning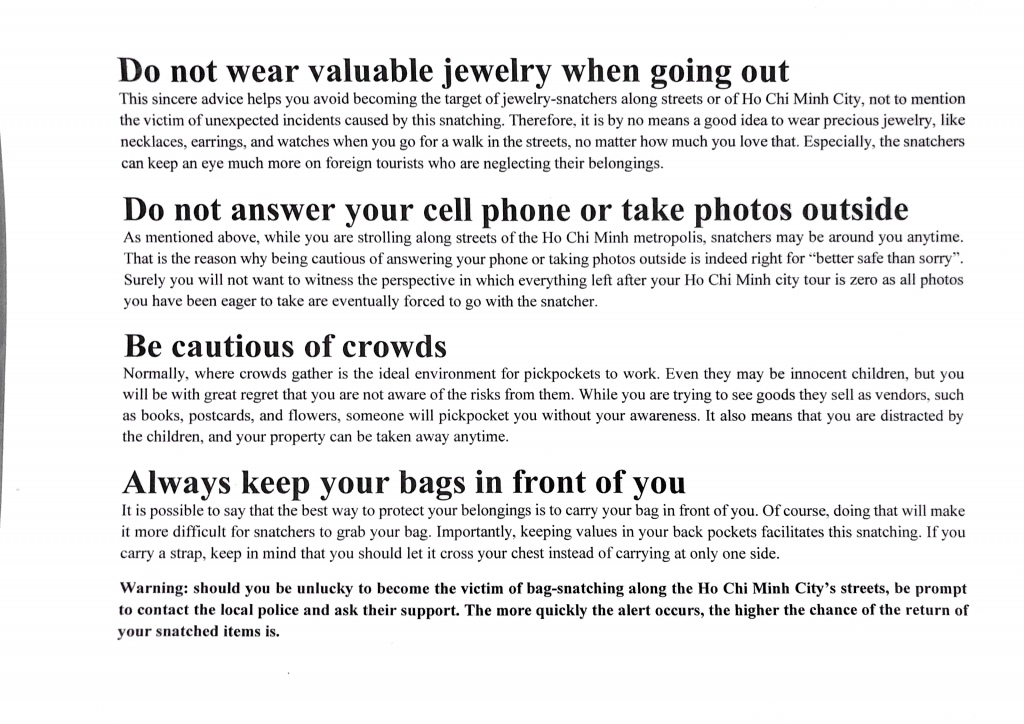 We found an interesting warning card there about scams and thieves and interestingly when we walked on the streets with a camera in hand some strangers also warned us about thieves but we didn't have any bad experiences in Vietnam. Not now and not the previous time we were here. Quite opposite, we find Vietnamese people very friendly and always helpful. It's never bad to be extra cautious though so ever since we kept our precious electronics in the backpack. Maybe nobody tried to scam us because we continue to keep our pauper image: old, washed-out clothing, cheap backpack… and a random Pierre Cardin handbag lol.
First signs of covid fear
The time came when coronavirus started to be more and more in the news and we noticed that many public places like restaurants, started to put hand sanitizer on the table and warning cards on the walls. More and more people wear masks too… or maybe it's just us noticing it more often because while it is quite normal in Asian countries, it is a bit unusual when you see masks on white people.
Overall it is a nice place to stay, just not for us. The room is too small for us. There is no working space at all, so I worked on a dining table and my man on a small cabinet under the TV sitting on a very uncomfortable sofa. We stayed in much worse places though and we survived.