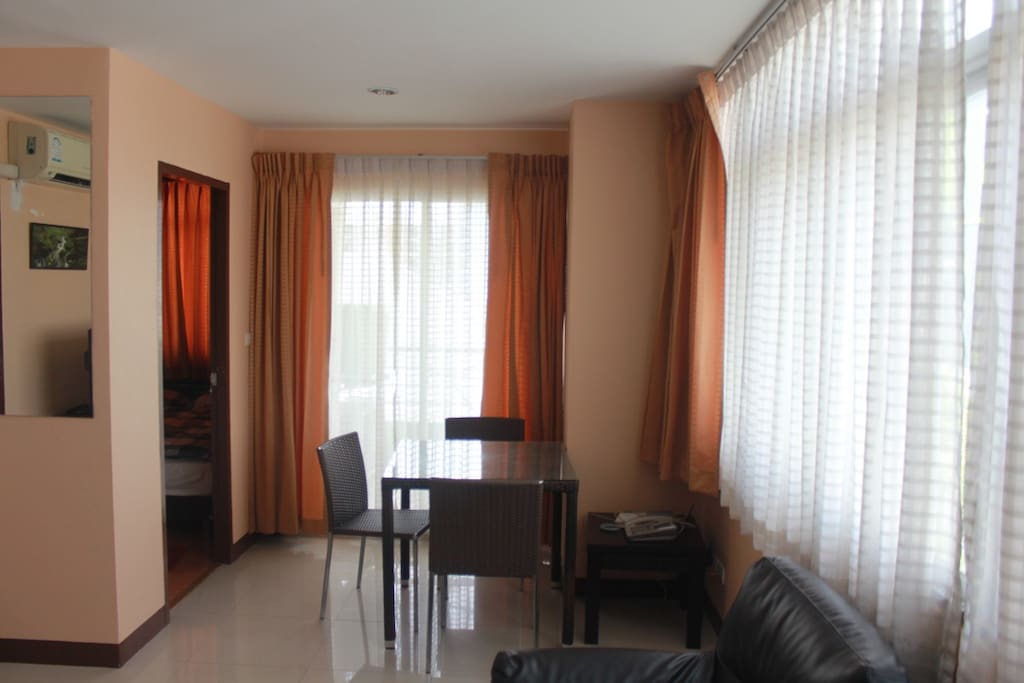 Our First Airbnb in Bangkok
After the nightmare flight experience, we were dreaming about getting to our airbnb and get some proper sleep. We booked the place ages ago. It was very affordable and it looked like it has everything we needed.
First thing that caused some problems was how to get there. Taxi driver on the airport didn't recognise the address even when I gave him address in Thai so that was fun. I am not perfectly sure, but I think he had someone on the phone all the way to the condo who worked there as his personal GPS. That was interesting. Later on I learnt that addresses and street names in Thailand are a bit weird and complicated and not only foreigners but also locals have problems with it sometimes.
Anyway, we finally found the place. There was a security guard at the entrance that was to give us keys… problem was he didn't speak English, we didn't speak Thai so first few minutes we tried to understand each other. He was very nice, smiling and trying to help as much as he could… but we didn't really know what he was saying 😀 In the end, he just gave us keys and took us upstairs to the place.
The flat was even better than we thought. Bedroom and living room had separate air conditioners so the temperature was always and everywhere comfortable for us. And it is very important because Bangkok is really really hot. Unbearable hot for me in fact. Small kitchen with a stove, microwave, kettle and all basic items you may need for a little cooking. Yes, I know that cooking in Thailand seems a bit strange idea, but I didn't know that before and it was important for me when booking the place! I learnt soon enough that kitchen won't be used much if at all there, but about this later. Back to the flat. Living area was quite big for the size of the flat and it was the place we spent most of the time. Sofa was super comfortable and I found myself relaxing on it often with my Kindle. Internet quite good and what was very important, it was just for this apartment, not all condo. The bed in the bedroom was huge and comfortable although the mattress is very firm and coming from a memory foam mattress at home I needed a bit to get used to it. First sleep on it though didn't matter much I was so tired I didn't care as long as I could finally lie down.
The place is quite far from Bangkok centre and all tourist attractions so it's perfect for people who want to get some local life experience. Nobody around speaks English, even in 7 eleven shop across the road from the condo! By the way, the condo has a free gym, but we have never used it. What really surprised us was that we didn't hear or see people in the entire place. For the first few days, we were convinced we are the only people living in it! Every morning (7-8am) next to the shop stops a street food guy with grilled chicken, fish and liver. We called him breakfast guy 😉 The food was awesome and it was our breakfast nearly every day we were there. Few minutes walk takes you to a local market and more street food. Basically, Bangkok is like one huge restaurant: street food and small restaurants are everywhere you look. What was even more interesting to us was that street food cost roughly the same as cooking it on your own! So obviously we didn't cook at all. Why would we?
There are in my opinion only two downsides of this place – it's a bit far from centre so if you want to visit some tourist attractions you need to take taxi and add about 1 hour drive one way to your trip. Second – it's next to a very busy road so most of the day it's quite loud there. Most normal people won't probably notice that because they won't be home anyway, but we had to take a nap in the middle of the day so we could work at night and that was something that didn't help in sleeping.
Other than that the place is great and if I am back to Bangkok its very likely I will book it again.