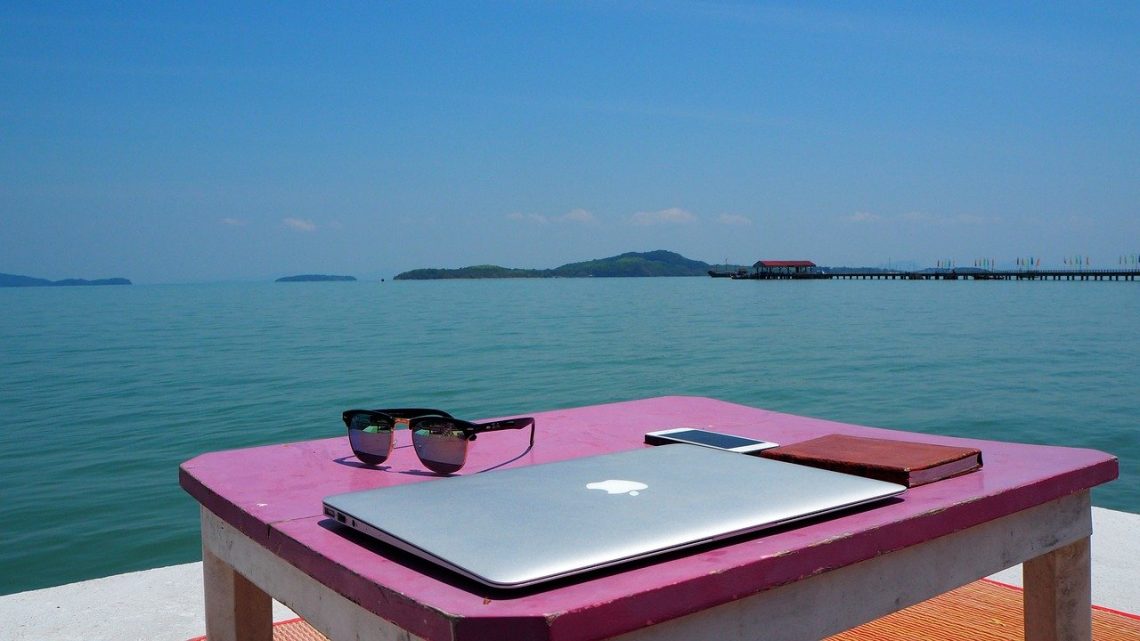 What it means to be a digital nomad?
Digital nomads are a type of people who use telecommunications technologies to earn a living and, more generally, conduct their life in a nomadic manner. Such workers often work remotely from foreign countries, coffee shops, public libraries, co-working spaces, or recreational vehicles. This is often accomplished through the use of devices that have wireless Internet capabilities such as smartphones or mobile hotspots.

Wikipedia
Digital nomad lifestyle is currently very popular among people who can do their work online. Many web designers, programmers, entrepreneurs and some tutors choose to work and travel. Everything depends on your work situation, but as long as you can do your job remotely you can become a digital nomad.
This lifestyle has a lot of advantages, but also some disadvantages. You should take into consideration both before starting this kind of lifestyle. It's not for everyone, that's for sure.

Advantages of digital nomad lifestyle:

1. See the world.
This is the most important advantage of the digital nomad lifestyle. You can live anywhere you want. You can finally see all those places you've dreamt of, that you've seen on TV, YouTube or travel blogs and books. There's very few restrains where you can go. Many countries offer 30-90 day visa on arrival, so you don't even need to worry about that. And in this time you can see quite a lot. If you feel like you haven't seen everything you wanted this time, you can always come back later again.

2. Choose your adventure.
No matter you prefer tropical climate, moderate or colder, you can choose where you live and what countries you visit. You can find places near the beach or mountains, close to forests and nature or in the middle of a town centre. Or you can mix and match and spend every month or week somewhere else.

3. Flexible work time and less stress.
You choose your own work schedule. You can work as few or as many hours a day or a week as you want. No more working in the office in your tight cubicle. No more annoying arguments with co-workers about some silly stuff. There's no dress code. You can work in your pyjamas if you choose so.

4. Save money.
Many countries outside Europe and USA are much cheaper. You can rent a nice place for a fracture what you're paying now. Often you can get an even better standard for less including all bills. The same with food. It is so much cheaper. Not to mention that you can finally try the real oriental food that you may never tried before!

5. Unforgettable holidays for friends and family.
Living abroad gives your friends and family great opportunity to visit you. It's a win-win situation. You get to see them, they can have holidays they will remember for years.

6. Live with less.
When you're travelling you are limited with your luggage. You have to learn what is necessary for your work and life. You will travel with all your belongings with you. It's difficult at first, especially if you've never travelled before. But you learn fast that you don't really need most of the things you thought are essential when you stayed at home. In fact, after some time you can't even believe you needed them before.

Disadvantages

1. Where is my internet?!
Most digital nomads need quite a good internet connection. This is the how you they do their job. This creates a problem that you can't really go anywhere you want. You can go anywhere you want AND there is internet access. That requires some research before you even book tickets to some places. Quite a lot of research in fact because everyone will tell you something else. The host of your Airbnb may think his internet connection is great. And maybe it is great… When it is available at all! You can always go to some cafe or co-working space of course if you don't mind other people around you.

2. Unfamiliarities and different customs
Every country has a different culture, policies and ways of living. Something that is completely normal for you may not be in the country you visit. Like touching somebody's head. There's nothing wrong about it, right? Wrong! Many Asian people consider it very insulting! The language barrier is also one of the biggest problems. Of course, sometimes you can explain what you need, some other way, but not always. It can be very frustrating.

3. Loneliness
Constant travelling means meeting new people all the time. It can be an adventure on itself, but it's difficult to create strong friendships this way. You will most likely meet fantastic people on your travels, but you will have to say goodbye to them in a week or a month, anyway. Your old friends and family is far away, so the only way to keep in touch is the internet. You may and probably will miss some events because you can't travel back home for all of it.

4. Self discipline
There is no fixed work schedule, but that also means that you have to make one for yourself. That can be a hard task when you're in a new, beautiful and interesting place. The Sun is always shining and the beach right outside the house will not make that task any easier. This is the most important skill any digital nomad should learn even before starting the adventure.

Everyone is different and will find different advantages and disadvantages of this lifestyle. I still think it's worth it, but I also see post from other nomads who burnt out after some time.